---
You booked a session with a Dominatrix but you didn't expect it to be your Step-Mother!
*** If you love FemDom & TABOO family fantasies this is a hot, twisted scenario. ***
Read More »
---
---
Syren De Mer is back on the pages of Sexually Broken, In our opinion this is your MILF of the year. Syren does all the pretty vanilla porn, and can also do the Hardcore bondage sex porn. Those two almost never mix.
Today Syren is fully tested. She is complety sexaully destroyed, bound down on the worlds most powerful vibrater and cumming about every minute with each one more and more destructive. Now add the catastrophic face fucking in, and it doesn't take long to send a girl into deep deep subspace. The lights are on but she's not home. That perfectly describes this scene. We blast Syren into subspace early and keep her there. It is hard to use words that really describe the intensity of this scene. So really, check out the free trailer, and then we will see you inside.
You do not want to miss this one!
Read More »
---
---
Hot MILF is bound helpless to 'X' frame and fucked by a massive cock until she cums over and over'
ANV and Xbiz nominated MILF of the year is back at Sexually Broken, India Summers loves and is amazing at her job, we are lucky to work with such a talent.
Bound to a custom made 'X' frame, India has her amazing ass sticking out begging for cock. We put the Insex mask on poor India, gagging and blindfolding her at the same time, then we add one more bag for fun. It doesn't take long for our Purple Heart recipient SGT Doe to fuck the first orgasm out of our helpless MILF slave. The SGT sets up behind and just plows his massive dick in and out of our moaning cumming helpless slut. Orgasm after orgasm is fucked out of India, in the end India is left shaking, and dripping.
Enjoy you long holiday weekend!
Read More »
---
---
Hot Cougar is hooded and brutally fucked while bound helpless, non-stop squirting orgams!
The final part of October's live show with Syren De Mer is here! Now witness the final sexaul destruction of this hot tamed and broken Cougar.
Bound and hooded in the ultimate 'fuck me" position, Syren is completely helpless and a bit freaked out with the hood. This is her first time in a hood and it shows, but soon the huge cocks make her forget about everything but screaming and cumming like a common whore. If you ever just wanted to see a helpless big tited slut get compley destroyed by dick, here ya go! Syren is fucked hard, extremely hard and all the cumming, moaning, and squirting proves it. Nothing faked, just a hot MILF getting overwhelmed and broken by cock!
Read More »
---
---
Hot military wife is bound and brutally face fucked! Halloween special live show, Part One.
Part One of October's Halloween special live show. Syren De Mer is dressed up in her sexy military camoes. This hot cougar gets exactly what she needed.
Handcuffed to the chair, the boys of Sexually Broken destroy Syren De Mer throat. An amazing start to the live show. Syren is blasted into sub-space from being fed huge cock. Handcuffed and helpless there is nothing Syren can do to escape the cocks from filling her throat. One of our very best face fucking scenes to date, and we are not kidding!
Read More »
---
---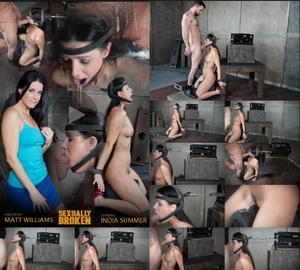 Two machines dominate India Summers, a custom blow job machine, and a sybian, DESTRUCTION!
India Summers is back and today she gets to 'Enjoy" two machines! One is a custom blow job machine the other the most powerful vibrator on the planet, the sybian!
It is hard to describe in words what is exactly happening in this amazing update. India is locked into the diabolical blow job machine, that moves her head on and off the dick, she is also bound down on the most poweful vibrater in the world. Just watch the trailer, like we said, words are not adequate to describe the complete destruction of India.
Read More »
---
---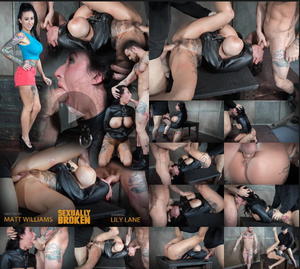 Sexy ALT model Lily Lane is bound in a straight Jacket and brutal manhandled, deep throated!
Welcome sexy ALT model Lily Lane with her massive tits and hard sexy tan body. This girl knows how to handle cock and loves it! We have Lily trusted up in a tight leather straight jacket. This sexy straight Jacket is specially cut to have Lily's massive boobs hanging out for us to abuse.
We call this type of scene a "ragdoll" scene. It's where the boys of Sexually Broken get to toss our helpless big tited slut around like a rag doll. We get to manhandle her into any position and fuck the living hell out of her. Both throat and pussy get destroyed every possable way in this amazing update.
Lily is left dripping out of every hole as we leave her exhausted and cummed out. Screaming squirting orgasms leave lilly in subspace, zoned out, trying to remember where she is and how she got here.
Check out why Sexaully broken is the best bondage and rough sex on the net. It's also the only site that updates 3 times a week, not 2 times a months like other discounted sites.
Read More »
---
---
A sweet, nurturing lesson from the woman you love the most…who you desire even though you shouldn't. Who better to coach you in becoming a good lover than your own loving MILF.
Read More »
---
---
Sexy Cougar Syren De Mer is back on the Sexually Broken stage, with Dee Williams, the Premiere female Dominate that is taking the internet by storm!
Dee Williams is back with Matt to completely wreck Syren De Mer. Dee has been training under the tutelage of Matt Williams for about a year now. Matt is considered one the best Male dominates in the scene today, and is ready to unleash his student on the sluts of the world.
Syren is bound spread with a powerful vibrator locked onto her shaved pussy, her helpless mouth ready for plundering. Today we are going to wreck Syren with massive amounts of cock to the throat, all the while as the vibrator rips orgasm after of orgasm from our powerless Cougar.
Sexually Broken specializes is destroying even the most talented and experienced porn stars of the world. Join today to see why Sexually Broken has been nominated so many times by the leading industry experts. Often copied but never duplicated, Sexually broken gives you the best value, hottest stars and most realistic rough sex in the industry, with world class bondage to boot!
Read More »
---
---
---
---
---